The ION wetsuit Jewel 5/5mm back zip for women is an oke wetsuit, not the best in its category. This wetsuit is mainly used for speed watersports like kitesurfing or wakeboarding but can also be used for other watersports like wave surfing.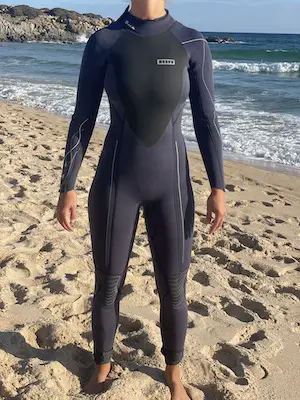 Wetsuit Specification
| | |
| --- | --- |
| Price range | 150-200$ |
| Size | 36/S |
| Thickness | 5/5 mm |
| Color | Purple |
| Brand | ION |
| Year | – |
| Gender | Women |
Pros
Pretty warm and good for winter conditions
Not that expensive
Drain holes and velcro straps make it a good wetsuit for speed watersports, like kitesurfing
Glideskin (smoothskin) on the front (chest) and back panel makes it warmer in windy conditions
Cons
A 5 mm thick wetsuit, that gives you less flexibility
A back zip has more water flush and less flexibility
Seam placements are not that good around the butt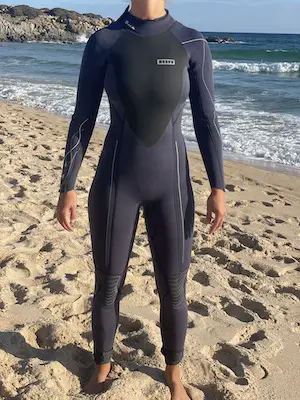 | | |
| --- | --- |
| Topic | Score 1-10 |
| 1. Warmth | 7 |
| 2. Flexibility | 6 |
| 3. Water flush | 6 |
| 4. Putting on and off | 8 |
| 5. Drying speed | 6 |
| 6. Seams | 6 |
| 7. Design | 6 |
| 8. Rubber (Neoprene) Quality | 7 |
| 9. Lining Quality | 6 |
| Total average score | 6.4 |
General wetsuit review of the ION Jewel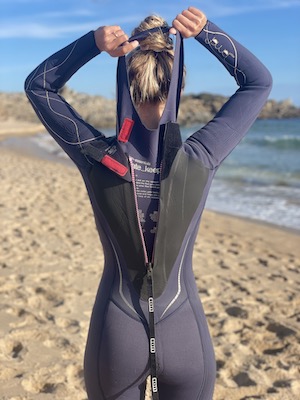 1. The Warmth of the Wetsuit
This wetsuit is a semi-winter wetsuit. This wetsuit keeps you warm in colder conditions. It will keep you warm in water temperatures above 5 degrees.
In the images above you see glideskin or smoothskin on the front and back panels of the chest to stay warmer in windy conditions. These panels are water-repellent to prevent windchill.
2. Flexibility and Stretch of the wetsuit
Because this wetsuit is pretty thick it will not have as much flexibility. This wetsuit has a neoprene stretch below average.
3. Water flush
Because a back zip wetsuit has a longer zipper it is more likely that cold water will come into your wetsuit through the zipper. It is not the best entry system to prevent water flush. This wetsuit has an extra water barrier behind the zipper to avoid more water coming into the wetsuit. You can pull the barrier over your head (see the image above).
Water flush or wetsuit flushing means that water comes in and out of your wetsuit. You want to have as less flushing as possible to stay warmer.
This wetsuit has wrist sealing to prevent water from coming into your arms (see image above). But there will always come water into your wetsuit through the wrist.
4. Putting the wetsuit on and taking it off
Because of the back zip entry, the wetsuit is pretty easy to put on and take off. In this case, it takes less the one minute to put the wetsuit on and take it off. Read more about wetsuit entry systems.
5. Drying Speed
The dry speed of course depends on how you dry it. But in general, this wetsuit takes one day to dry totally inside out. The outside of the wetsuit will still be slightly wet but the inside will be totally dry and that is more important.
Technical aspects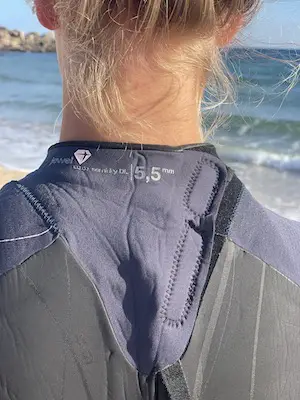 6. Seams
The seams of this wetsuit are glued and blind stitched (GBS). You mostly see this method with high-end wetsuits or cold water wetsuits. It would be even better if they taped the inside of the seams and put a flexible sealing on the outside of the seams. If you want to know more about seams read the blog about what seams are used in wetsuits.
7. Design
The design of the wetsuit gives you more or less comfort, stretch, and a good fitting. The design is determined by the placement of the seams and the number of neoprene panels.
The seam placement of this wetsuit is overall good, but around the waist and butt, it is not. At the back of the wetsuit, they made a seam in the middle of your ass. Especially with women with more curves around the butt, this seam is likely to break. Then you have a tear in your wetsuit.
The body has 5 mm neoprene panels
The arms and legs have 5 mm neoprene panels
8. Rubber (Neoprene) Quality
We couldn't find the exact aspects of the neoprene. My guess is that this wetsuit is made from limestone neoprene. This type of neoprene is used in many high-end wetsuits and has a good performance.
Limestone neoprene is made more eco-friendly than petroleum-based neoprene. Read more about the types of neoprene.
9. Lining Quality
Inner lining
Inside the wetsuit, there are two types of lining used. A sort of fleece or plush lining is used on the chest and back panels to be warmer around the vital parts of the body. The rest of the inside is lined with nylon to protect the neoprene from damage.
Outside lining
The whole outside wetsuit is lined with nylon.
More details of this ION wetsuit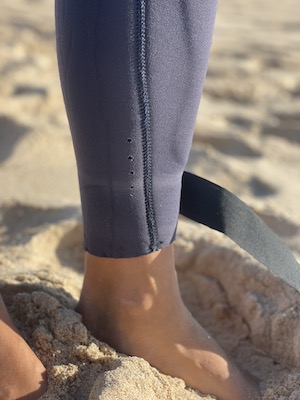 Durability
The frequency of wearing and the way you care for your wetsuit determine how long your wetsuit will last. This wetsuit is more than 5 years old, so we can say it has good durability. It will slightly lose stretch and color after so many years. Read the blog about all the signs of a worn-out wetsuit.
Weight
Because of the thickness of 5/5 mm, it is a pretty heavy wetsuit compared with other wetsuits that are less thick. This wetsuit weighs around 1,5 grams.
Zipper Quality
The well-known YKK zipper is used on this wetsuit. It is one of the best and most often used wetsuit zippers. The YKK zipper is made in Japan, and it is made of high-quality materials that do not corrode when exposed to seawater. Read more about wetsuit zippers.
Knee Pads
The knees of the wetsuit are lined with an extra-strong, long-lasting lining. This protects your knee as well as the neoprene. When surfing, your knee receives a lot of abrasions.
Detachable velcro ankle straps
These ankle straps are extremely useful for high-speed watersports such as kitesurfing or wakeboarding. When water strikes your ankles, the wetsuit will not roll up your legs. They can be used, but they can also be removed because they are fastened with velcro.
Leg drain holes
Water can exit your wetsuit's legs through drain holes around your ankles. This prevents the wetsuit from ballooning over your legs when standing on your board.
Wetsuit Fitting and Sizing
The right fit is different for everyone but the rule is that a wetsuit should fit as a second skin. A well-designed wetsuit provides more comfort and a better fit. One of the most important features of a wetsuit's effectiveness is its fit. Choose the appropriate wetsuit size from the sizing table below.
Size Chart ION Wetsuit Women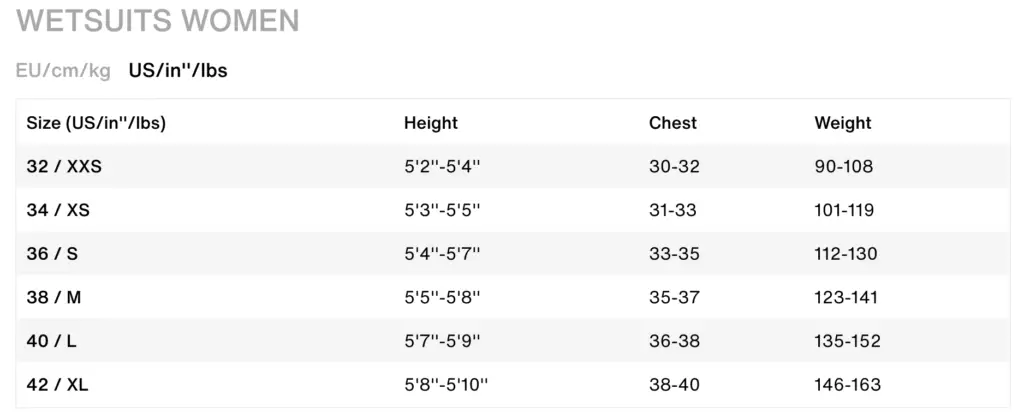 Conclusion
Overall this is an oke wetsuit with an average score of 6.4. The price is not too high for the quality you get. The biggest disappointment of this wetsuit in my opinion is the seam in the middle of your butt. Especially for ladies with more curves, this seam is likely to break.