This is a very personal preference I think. There is no "best thing to wear" under a wetsuit. It is different for everyone.
In general, what most people wear under their wetsuit is a swimsuit or bikini for women and a small speedo or boxer shorts for men. There are also many people that wear nothing underneath their wetsuit and prefer to be naked. To stay warmer in the water you can put a thermo fleece on under your wetsuit.
What do men wear under their wetsuit?
1. Swim Pants / Speedo / Swimming Brief 
Just a normal man's brief ('a speedo') like you wear when you go to the beach or pool. The advantage is that your pipes can not roll up. Normal underwear will also work.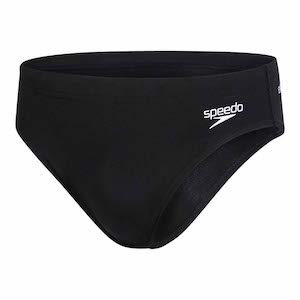 2. Aquashort / Boxer Short / Rash Undershorts (a jammer)
This is a bit longer than a normal swimming brief and you have some varieties between the length of the shorts.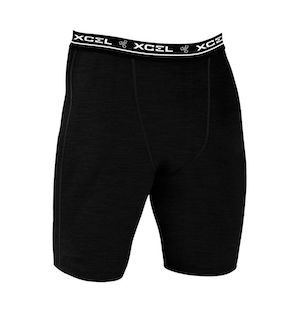 3. Rash guard / Thermo fleece / Longs sleeve wetsuit top
It is more of a thermal layer under the wetsuit to keep you warmer in the water. Mostly it is used as a base layer when the wetsuit is not warm enough for the weather circumstances. Every extra layer is extra insulation but the shirt with a water-repellent poly fleece will be warmer, quick-dry, and gives more comfort.
4. Neoprene Shorty or Full Bodysuit
If you are still too cold in the water you can always use a neoprene shorty or full bodysuit underneath your wetsuit. You will lose some comfort and flexibility but you will definitely be warmer.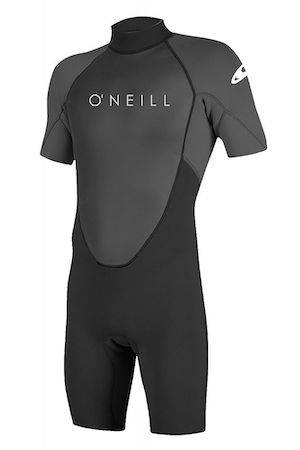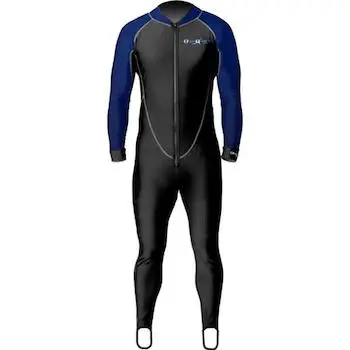 5. Nothing Underneath / Naked
This is my personal preference. I am always struggling with shorts or shirts rolling up in the wetsuit or tightening my legs or arm. For me, this is the best way :). 
Some people also wear normal board short underneath their wetsuits. I don't understand this because it will definitely roll up or down and will be irritating during your session. But that's just personal. 
What do women wear under their wetsuit?
1. Swimsuit / Bathing Suit / Bikini / Sport bra
I think most girls prefer something like a swimsuit under their wetsuit. It makes it easier to change at the beach or at the car. Then they have less trouble with their privacy when changing.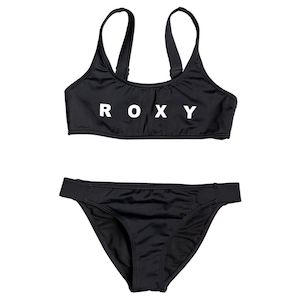 2. Rash guard / Lycra or Jumpsuit
Just like with men this can be a base layer underneath every wetsuit. It can help with more comfort and warmth.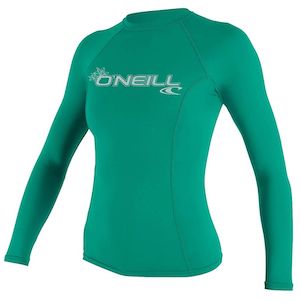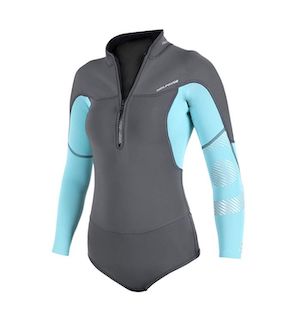 3. Springsuit / Neoprene Shorty 
For the colder days, some women prefer a neoprene shorty or a jumpsuit to be warmer in the water.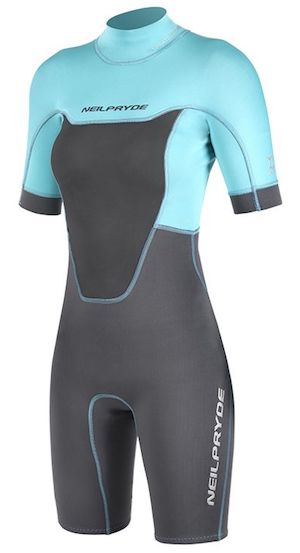 3. Nothing Underneath / Naked
There are not a lot of women who prefer nothing underneath their wetsuit. Most of them still wear a bikini bottom and then go topless.
Why should you wear something under your wetsuit?
There are some advantages of wearing something underneath your wetsuit. Here are the most common ones:
Extra Warmth and Insulation
Putting on an extra layer under your wetsuit keeps you warmer. Also if you have a hole in your wetsuit something underneath will keep you warmer, a shorty will help. If you have a hole somewhere you have to fix it with glue or buy a new wetsuit of course ;). 
Hygiene (especially when renting)
If you want to keep your wetsuit more fresh and clean you can wear a full bodysuit. It protects the suit from sweat and other nasty smells that your body is producing. If you are renting a wetsuit, always wear something underneath. Like a bodysuit or shorty doesn't matter. But you never know if the wetsuit is properly washed or not. 
More Comfort
For some people, it is more comfortable to wear something underneath the wetsuit because the seams of the suit are itching or irritating. So they wear it to protect their skin. 
More privacy when changing
When you are changing you have a bit more privacy and you are not completely naked when you take your wetsuit off. Or if you have a hole in your wetsuit around your butt or another private spot it is covered with an extra layer underneath.
What are the disadvantages of wearing something under your wetsuit?
Irritating during your session
It could be irritating during your session or also when you put your wetsuit on. The boxer shorts or T-shirt under your suit can roll up or get too tight around your legs or arms. This can be irritating after some time.
Less flexibility in the water
If you are wearing a whole bodysuit/shorty or just lycra underneath, it could be that you are less flexible in the water. I think you need all the flexibility in the water, especially when surfing or kiting. 
More work to put on and off
Just another thing to put on or to take off. It is not a big deal but still if you just have struggled yourself out of your wetsuit, you still have a bodysuit or a shorty to take off.