Wetsuits come in handy when cold water is involved. They are worn by many different kinds of people, including surfers and divers. wetsuits keep the wearer warm in cold water. wetsuits are made with a synthetic material called neoprene. Neoprene is a rubber that is thin yet very flexible. Wetsuits are worn to protect the body from hypothermia, which lowers your body temperature to dangerous levels and helps protect you from abrasions. Hypothermia is caused by prolonged exposure to cold water.
Always go prepared and make sure you have the best wetsuits for canyoneering. You might not always want to go through the hassle of wetsuit selection, but you must know how to pick the right one. If you are a dedicated canyoneer, you would know the importance of one of these.
There is a big difference between a cheap wetsuit and an expensive one. However, it is not always about the price. Some companies can charge you a lot for a wetsuit that is not even quality.
Best Canyoning Wetsuit to Buy
Types of Wetsuits
Many wetsuit types fall under three major categories; diving wetsuits, triathlon wetsuits, and surfing wetsuits. The surfing wetsuit you can divide into another category with wind and speed. We call this category kitesurfing or windsurfing.
1. Diving wetsuits are designed to keep the wearer warm and dry for extended periods. Typically these wetsuits are thick and made of neoprene. Diving wetsuits often come with a built-in hood.
2. Triathlon wetsuits are specifically designed to be worn in triathlons. These wetsuits are usually made of thinner material and have more buoyancy than diving wetsuits.
3. Surfing wetsuits are designed to be worn in cold yet warm water. These wetsuits are typically made of thinner material than diving wetsuits and are usually designed for more flexibility.
4. Kitesurfing wetsuits are made slightly different than surfing wetsuits because they are mostly worn in windy conditions and at higher speeds on the water.
Wetsuits for canyoning are in-between categories of surfing and diving. Because the wetsuit needs the flexibility of a surf wetsuit and the thickness of a diving wetsuit. The canyoning wetsuit also has more protection around the butt and knees. This is because during canyoning you are climbing and gliding between rocks that can be sharp and easily cut your wetsuit.
Wetsuit Buying Guide
There are two significant factors to consider when buying a wetsuit, the material, and the thickness. A thicker wetsuit will keep the wearer warmer than a thinner material wetsuit. The dimensions of a wetsuit are also dependent on the water temperature that the wetsuit will be used in. Wetsuits made with a thinner material will be used in warmer water. Wetsuits made with a thicker material will be used in colder water.
There are many different materials to choose from when buying a wetsuit. The primary materials used in wetsuits are neoprene, nylon, and polyurethane. Neoprene is the most popular material used in wetsuits. Neoprene is a synthetic rubber that is very flexible. This material is used in all kinds of wetsuits, from diving to surfing. Nylon is a synthetic fiber that is used in many wetsuits. Nylon is often combined with neoprene to give a wetsuit extra strength and durability. The knee pads are extremely strong, durable, and flexible through a polyurethane varnish. A little bit stiff but so much resistant, ready for any condition.
Configurations
Wetsuits are available in three primary configurations. The major style, which is also the commonest for canyoneering, is a full-length wetsuit. It is mostly the preferred choice because the full-length wetsuit will protect you from the feet and up to the shoulders. Like most of your gear, you want a wetsuit that is as flexible as possible. This will give you the most freedom of movement.
Full wetsuit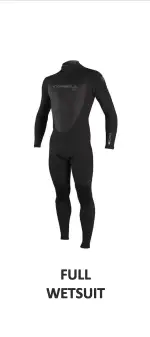 2 Piece wetsuit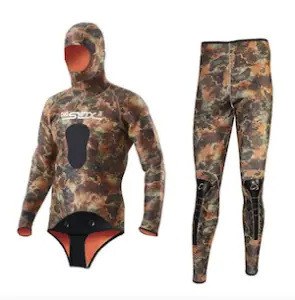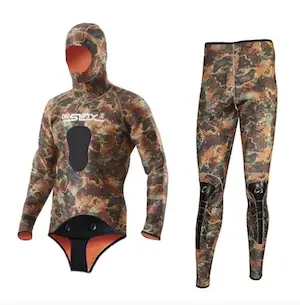 The next type of wetsuit is the shorty wetsuit. This style is excellent for warmer water canyons. It will provide you with protection up to your waist. These suits are not suitable for colder water canyons.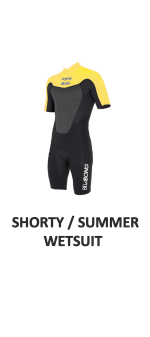 The third type of wetsuit is the sleeveless suit they call it the long john or jane. This style is best for warmer water canyons. They are not good for colder canyons but they often use this wetsuit with a jacket.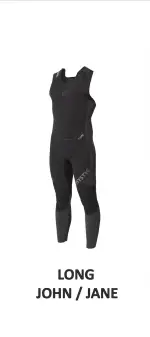 The is another type of suit and it is called a dry suit (is not a wetsuit). Technical divers mostly use these suits, although they are not good to canyon. The most significant aspect of a wetsuit is its flexibility. You want to be able to move very freely in the water. If the suit is too constrictive, it will make maneuvering difficult. The best suited to canyon are full-length wetsuits.
Thickness
The dimension of the wetsuit is really what affects how warm you are in the canyon. The dimension of the suit is measured in millimeters, and a suit that is described as being 2mm thick will be twice as thick as one described as 4mm thick.
The dimension of the wet suit should be based on your current level of fitness and what kind of equipment you will be using. If you are using a paddleboard and can stand and paddle, a thinner wetsuit will keep you warmer. If you use a kayak and need to remain seated, a thicker wetsuit will keep you warmer.
Lining
The lining of a wetsuit determines how easy it is to get in and out of. If you are using a wetsuit without a zipper, the lining makes it easier to put on and take off. Also, the nylon lining protects the neoprene from fingernail rupture or any other damage. If you want to know more read the blog about the inner and outer linings of a wetsuit.
Zippers
Zippers are an excellent addition to a wetsuit. They make it easy to get on and off, making it possible to pee while wearing the wetsuit. Zippers also make it possible for you to make minor adjustments to your wetsuit. If you get hot, you can unzip a bit. If you get cold, you can zip up a bit. If you are wearing a wetsuit without a zipper, you will need to wear a pair of shorts under the suit. They will not keep you warm, but they will make it possible for you to pee. The best wetsuits with zippers will have a zipper that goes all the way around the back. This makes it easier to get into and out of the wetsuit.
Breather Zippers
During canyoning, a breathable wetsuit is a great feature to have. The reason is that you don't want to be too hot. The best wetsuits with a breathable design will have a zipper on the chest or sleeves. This way, you can open up the area closest to your skin to allow more ventilation.
The Most Used Canyoning Brands
While it is true that finding a good quality brand of wetsuit is important, the brand of your wetsuit is less important than the wideness and the design of the wetsuit. It is also important to remember that there is a lot of disparity in the price of the wetsuits.
1. Seland
The Seland canyoning suit is made of 100% neoprene. It is, therefore, a robust and durable outfit made for the demands of canyoning. The sleeves and the legs have an elastic waistband, giving it a figure-hugging fit, thus offering additional support and protection for the legs and arms. A drawstring at the top of the hood provides for an optimal fit. A wide zipper on the front allows for easy on and off. Reflective details on the shoulders and the back provide optimal visibility when canyoning in the dark.
Here you can see their website
2. Vade Retro
Vade Retro is a France company that is a specialist in canyoning wetsuits. They only sell canyoning wetsuits and dry suits and nothing else. They supply in 15 different countries.
3. Deap Canyoning
Deap canyoning wetsuits are made of a stretchy neoprene material that allows you to glide through the water and move with your body. This material is highly durable and will provide extra warmth. The neoprene is also soft and comfortable to wear on the skin. Deep canyoning wetsuits are designed to be used in the water and are not confused with outdoor wetsuits designed for use in the cold.
Here you can see their website
4. Artistic
The Artistic canyon brand is a German company that doesn't give a lot of information about its existence and production. I couldn't even find their official website, only a German webshop that sells their wetsuits.
5. Seatec
Seatec is an official wetsuit manufacturer from Australia, that also sells wetsuits to consumers. They are more known for their diving wetsuit then than they are for canyoning.
6. Seventhwave
Seventhwave is a known surf brand from New Zealand. They claim to have wetsuits that are also suited for canyoning. In general, a normal surf wetsuit will also do just fine during canyoning. But if you go canyoning often the surf wetsuit will not last that long.
Conclusion and Tips For Getting a Great Wetsuit
The best wetsuits are the ones that are best suited to you in terms of size, performance demands, affordability, etc. The best wetsuits are the ones that you don't have to adjust constantly, and you can wear for as long as you want to.
Make sure that the wetsuit is not too tight as this will make it hard to move around in. The wetsuit should be long enough to cover your stomach and chest area. Ensure that your hands can move around without any straining; they should be comfortable as they can get. Women's wetsuits are designed to fit the female body shape. These wetsuits are made from smaller materials, which allows for more flexibility and movement.