Choosing the right wetsuit is a crucial part of the bodyboarding watersport. The wetsuit should keep you warm and as flexible as possible. In this blog, we try to give you the most complete information to choose the right wetsuit for you.
Best Bodyboarding Wetsuit to Buy
Why use a wetsuit?
Warmth
The most important reason to use a wetsuit is to stay warm in the water. To prevent your body from hypothermia. Hypothermia is when your body is getting too cold and is losing more heat than it can produce. When the body temperature is too low (below 95° F or 35° C) it will affect the brain, making you unable to think clearly or move well.
In my opinion, it is always better to be too warm than too cold in the water. You can easily cool down and let cold water flush your wetsuit.
Protection
A wetsuit gives your body protection against many outdoor factors.
Damage, cuts and abrasion from coral, stones or sand.
Sunburn or UV protection
Aquatic animals like jellyfish and bluebottles (not sharks :P)
More buoyancy or floating
During bodyboarding, you are waiting for the right waves. The wetsuit can give you little floating capacities that help you stay on top of the water more easily.
How does a wetsuit work?
Wetsuits keep you warm in three different ways. To begin, by creating a physical barrier between your skin and the water, keeping your body heat inside. Second, by trapping a tiny layer of water between your skin and the suit that has been warmed by your body heat. Third, another layer of insulation is provided by trapping air warmed by your body heat in tiny air pockets inside the neoprene material.
How thick should my wetsuit be?
The thickness of your wetsuit is one of the key factors to determine how warm you will be. In general, wetsuit brands all use the same metrics (millimeters) and numbers to set the thickness of a wetsuit.
Different Thicknesses Descriptions
The thickness of a wetsuit is measured in millimeters neoprene. Brands give their wetsuit one, two, or three numbers in the description to make clear how thick their wetsuit is and on what part in the wetsuit.
For example:
3mm wetsuit means 3mm neoprene on the whole wetsuit
4/3mm wetsuit means 4mm neoprene on the chest and back (core) and 3mm neoprene on the rest (arms and legs).
5/4/3mm wetsuit means 5mm neoprene on the chest and back (core) and 4mm on the legs and 3mm on the arms.
Choosing the right neoprene thickness
The thickness of the wetsuit is one of the most important questions when buying the right wetsuit. The colder the water the thicker the neoprene you need, to stay warm. Here below is a water temperature guide to decide what neoprene thickness you need compared with the water temperature. Keep in mind that everyone has a different level of sensitivity to cold.
Thickness and Water temperature guide
| °C | °F | THICKNESS |
| --- | --- | --- |
| > 22 °C | > 72 °F | 1 mm |
| 19 °C – 22 °C | 66 °F – 72 °F | 2/2 |
| 15 °C – 19 °C | 59 °F – 66 °F | 3/2 |
| 12 °C – 15 °C | 54 °F – 59 °F | 4/3 |
| 8 °C – 12 °C | 48 °F – 54 °F | 5/4 |
Which wetsuit size do I need?
Getting the right size is essential to make the wetsuit work efficient. You can buy the thickest wetsuit available but if the fit is not right you can still be cold in the water.
How to decide the right fitting
There are some miss conceptions about the right fitting of a wetsuit. A wetsuit should feel tight (but not too tight). Here are some guidelines to check if the wetsuit has the right fitting.
No gaps
Gaps can occur at your back, armpits and between your legs (baggy fit).
No rolls
Rolls can appear on your stomach, arms and legs.
Move easily with little resistance
Move up and down with your arms. You should be able to touch the ground with your hands and move your arms up in the air with little resistance from the wetsuit.
Size charts
Each wetsuit brand has its own sizing system and respective size charts. Choosing the right size is crucial, so always check the size chart of the brand you are buying. Keep in mind that every brand also has its own wetsuit design. Some brand designs will match your body type more than others (referring to big, small, skinny, tall, and petite people).
Here below you see the size charts from the wetsuit brands, Hubboards, Gyroll, and Pride.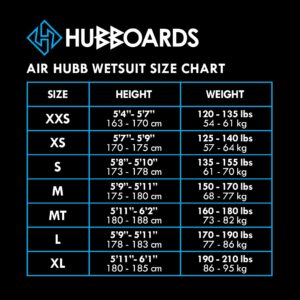 What are the different kinds of wetsuits?
The more body coverage the warmer you will be in the water. There are many wetsuit variations from configurations to zip entries. Here below you see the most common ones.
Types of wetsuits configurations
Choosing the right configurations makes a lot of difference. For instance how often will you wear your wetsuit mostly in colder or warm water? It determines a lot how warm you will be in the water.
Full wetsuit or full steamer
This is the most preferred wetsuit type because it gives your body the most warmth (insulation) and protection. Even in warmer waters, you can choose a thinner neoprene.
Long john/short john
Both have no arm sleeves and are giving you the most flexibility for the arms to paddle or swim.
Springsuit
This suit features long arms and short legs, which offers good sun protection, keeps you warm, and prevents water from entering your wetsuit from below at your ankles.
Shorty
This is a wetsuit for summer temperatures and warmer waters. With short legs and arms, it gives you more flexibility in the water.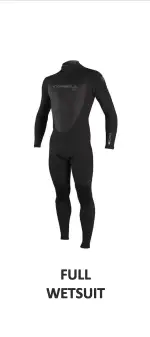 Types of entry or zip systems
Here below you see the most common zip entry systems for surfing wetsuits. The one you choose is personal for everyone. Keep in mind that with no zipper in the wetsuit you should experience the best performance of the wetsuit. Read more about the wetsuit entry systems.
Back zip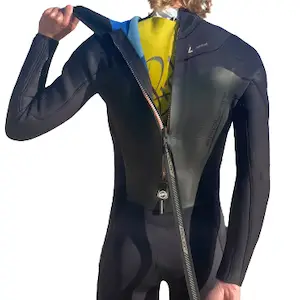 Front zip / Chest zip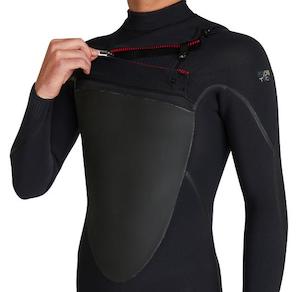 Zipperless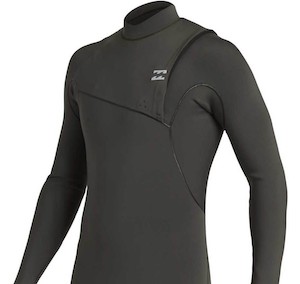 How do I determine the quality of the wetsuit?
You can see the quality of the wetsuit in 3 key factors; the seams, neoprene, and lining.
Seams
You can see the difference between a normal wetsuit and a high-end wetsuit by how the wetsuit is stitched.
Normal wetsuits have simple seams, overlock and flatlock are simple seams.
High-end wetsuits have more advanced seams like the blindstitch and welded seam. This way of stitching the wetsuit makes the wetsuit more watertight, durable, stronger, and more flexible. The blindstitched seams can be single, double, or triple glued and mostly go by the short name of GBS.
Overlock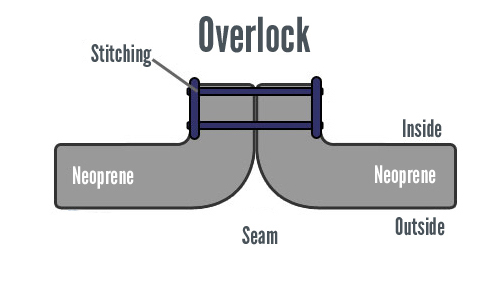 Flatlock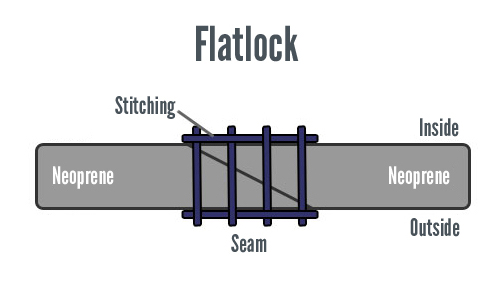 Blindstitch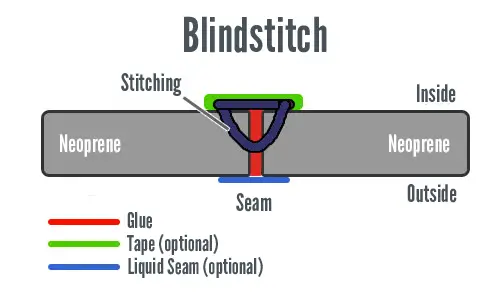 Welded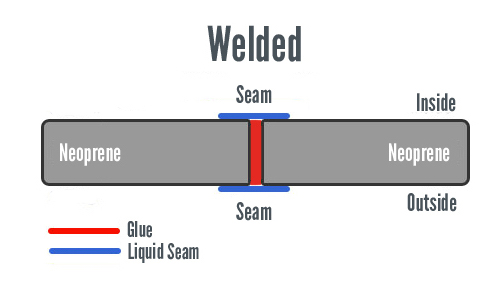 Flexibility of the Neoprene (rubber)
The neoprene or rubber must be insulating, durable, and flexible to be of good quality. Also, the weight of neoprene can be a quality factor these days. It's hard to see from the outside if the neoprene is of good quality. But in general, you see limestone neoprene and Yulex rubber in high-end wetsuits and petroleum-based neoprene in normal wetsuits.
Inner Lining
The inner lining of a wetsuit can give you extra warmth if needed. This lining feels like a soft fleece material and can be inside the whole wetsuit or just in some parts (mostly the chest and back). This lining should help as extra insulation, is water repellent, and fast drying. You only see this lining in high-end or cold water wetsuits. Every brand makes its own fleece lining and gives it a different name, so be aware.
Bodyboarding Wetsuit Brands
Some brands are making wetsuits dedicated to bodyboarding. However, a normal surf brand will do just fine as a bodyboarding wetsuit. The difference you see in minor details of the wetsuit, like elbow grips cells and reinforcements. Here you have a list of brands that are specialists in bodyboarding wetsuits.
Bodyboarding Wetsuit Tips and Accessories
Bodyboarding wetsuit features to look for when buying
Forearm Grip Cells
Elbow reinforcements
Seamless Stomach Design
Interior wrist and ankle grips or cuffs seals
Internal Glideskin Material at the neck or collar
Anti-abrasion knee pads
Rash guard (lycra), thermo fleece or long sleeve wetsuit top
Adding an extra layer underneath your wetsuit can give you more warmth and comfort is needed. Read more about what to wear under a wetsuit.
Neoprene Shoes, Socks or Booties
And if you are still cold after adding an extra layer underneath your wetsuit. You can first try putting on neoprene shoes, socks, or boots.
Neoprene Gloves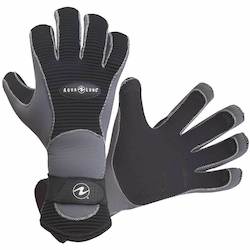 Neoprene Hood or Hat
A hood or a hat you can wear in really cold conditions. Some studies say that 40 to 45% of your body heat you will lose through your head. But this is not true according to the study of 2008 report in BMJ, a person loses 7 percent to 10 percent of their body heat through their head.
Conclusion
Checklist before buying a bodyboarding wetsuit
Get the right size for you (this is essential)
Choose the right thickness for the water temperature (3/2, 4/3, 5/3)
Always go for a full wetsuit
Look for watertight, glued/sealed seams for colder weather
Check for a inner fleece type of lining
Look for the bodyboarding features like the forearm grip cells, elbow reinforcements and seamless stomach design.
If you are still too cold buy a Thermo fleece for under your wetsuit.